Our Culture
We've been around the Bay of Plenty and  the Waikato for over 30 years. We have built a solid reputation for our high standard of workmanship, safe work practices, as well as our organisational skills and ability to meet deadlines within budget.
All of the above are things we are proud of, as we are of our professional attitude and down to earth approach to work and life. There is more to it, though. Day in, day out, we greatly value the men and women who work for us.
When it comes to our staff, we do our very best to communicate our goals and our vision. Our employees are known for the good work they produce, which we hope makes them proud to be part of a unified team. We treat them well, we pay them well, we involve them in all that we do, and above all – we respect them.
Polite
Safe
Honest
Timely
True to word
Pride
= Good Buggers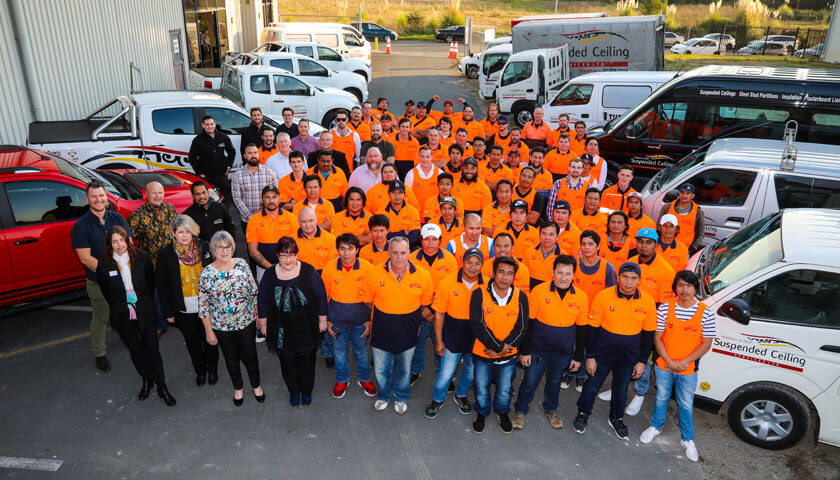 We are about people. Treating our staff well, like family, is important to us. We believe it is key to retain the motivation of our people, to go above and beyond. Come to work happy. Every single day. Some of our people have been with us for more than 20 years. In this highly competitive industry, that's something to be proud of. It's where we buck the trend.
As we have some awesome projects lined up for the near future, we are looking for more members to join the Tika team. If you are keen to find out what it's like to work for Tika Interiors, take a look at our jobs section and get in touch with us today!
Don't Just Take Our Word For It ..
Fresh off the boat from the UK in 2013, the first job I applied for was with Tika and I've been here since.
Starting as a ceiling fixer, I have found the company to be a first rate employer. They have invested in me and given me the opportunity to to develop my career. Having expressed my interest in Health & Safety to Dan, I was given a great deal of encouragement and help from the company to study and develop H&S as a career path. Two years later I am now a NEBOSH qualified H&S manager for the whole company.
I have found Tika to be a fantastic, supportive company who are prepared to invest in their staff , from young apprentices to senior management. I would certainly recommend Tika to anybody considering joining our company.
I began working for Tika in January 2013 as a gib fixer and commercial
interior fitter. During my time working with the Team, I have been able to further develop my skills
in commercial interior construction and residential housing fit out. I have also been given the opportunity to be involved in seismic upgrade work across New Zealand including the pre-check/planning stage of seismic upgrades.
While being employed by the company, I have completed my BCITO qualification in National Certificate in PlasterBoard Fixing and after some time spent as acting foreman on both commercial and residential sites I was promoted to my current role of Team Leader. In October 2017 I completed my supervisor Site Safe Gold Card.
Tika Interiors are very supportive to workers who are keen to develop their skills and complete their relevant qualifications, with opportunities given to those who want to advance themselves professionally. The whole team are a great group of people to work with and I really enjoy working with such caring people who treat each other like family. I'm looking forward to working with this bunch of good buggers for many years to come!
I like working for Tika because the management team is always friendly and easy to talk to, also because of the range of different tasks I am sent to do. Even as a truck driver every day is a new challenge.