Services / Suspended Ceilings & Partitioning
Suspended Ceiling & Partition Experts 
There's a lot to be said about a ceiling. It impacts the mood in a space, keeps the heat in, influences the sound, and directs the lighting in the room. Although we don't always look up, the ceiling can make or break the atmosphere of an environment indoors.
Acoustic, thermal, sound control, lighting islands, or purely aesthetic, Tika knows ceilings and partitions. A suspended ceiling system is an important part of any commercial fit out, and the Tika Team can create and install a solution that meets all your needs.
The standard systems of plasterboard and suspended tiled ceilings are an economical and a swift way to finish your project, but perhaps you like things a little edgy? An eclectic print, contemporary light fittings, or a little bit of an industrial vibe? Plasterboard may be the most common form of ceiling, but that doesn't mean we can't make it unique.
The choice is yours to make, and the possibilities are endless. When working with Tika, you'll have peace of mind knowing that we are accredited installers of all supplied systems, and offer all relevant warranties and guarantees.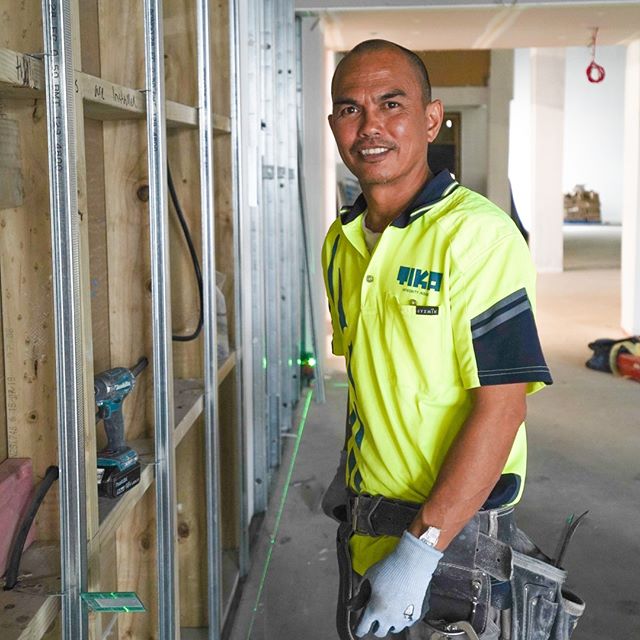 Here are some ideas of things you may want to consider, and have on hand when calling Tika Interiors:
Know your area and the height of your ceiling. The higher it is, the larger the room will feel.

What is the main purpose for the room? This can determine which ceiling will best suit your space.

Have you thought about lighting? Most lights are compatible with suspended ceilings but if you are in need of more, clear panels can be installed so you can take advantage of skylights.

Lowering or raising a ceiling can change the way it will heat and cool. Talk to us about fitting insulation when the ceiling is installed.

Do you need a permit? In most cases you won't, but it is best to check with your local council. Tika will install your ceiling to the correct code, including newly introduced earthquake restraints.

If you are needing a replacement tile, find out how big it is and if it has a code printed on the back? If not, please bring it in or send a photo to one of our staff. We'll help you sort it out.
Need Our Help? Contact Us